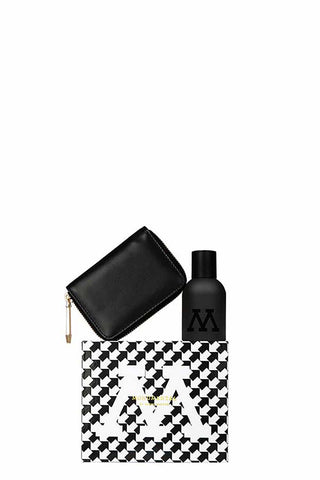 Monumental - 50ml Gift Set with Black Wallet
$150.00
Or 6 payments from $25.00
What's this?
Brand Karen Walker
Monumental 50ml Set with Black Leather Wallet
This limited edition gift set comes with a 50ml Monumental fragrance and a black leather Karen Walker card wallet. 
Wallet: 12cm W x 8cm H
This unisex fragrance from Karen Walker is a classical oriental spicy Eau de Parfum with the compelling, sensual energy of unexpected modern elements. 
Invigorating top notes of chili pepper leaf, pink peppercorn and juicy, thirst-quenching pomegranate vibrate like atoms against an intensely masculine smoky base of Bourbon Vetiver and woody amber, coalescing with the heady exoticism of patchouli and complex floral heart notes of peony, lavender and geranium essence.